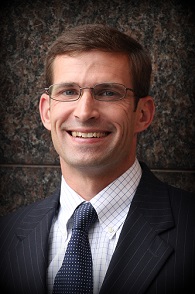 Investment Advisor Representative, Retirement Income Certified Professional, Chartered Retirement Plan Specialist, Registered Financial Consultant
John focuses on the individual and small business retirement plan market including 401(k)s, 403(b)s, Simple IRAs, SEP-IRAs, Traditional IRAs and ROTH IRAs.  He believes in keeping fees low, providing relevant and meaningful advice, and inspiring you to accomplish your goals.  Part of the journey towards and through retirement does include having answers to those "what if scenarios", so John does offer other solutions and services to address those important client risks and needs. 
In 2004 he and his wife, Kim, started thinking long term with money for the first time in their relationship.  As they implemented their plans and were gaining traction towards their goals, John and Kim noticed that their closest family and friends didn't know what they knew about personal finance. It was then that they realized the need for more education and advice in our community and a new career was born.
John graduated summa cum laude, with a Bachelor of Science from the University of Kentucky and continued his education with an Executive Certificate in Financial Planning from Bellarmine University.  He earned the Registered Financial Consultant (RFC®) designation through the International Association of Registered Financial Consultants.  John is a Chartered Retirement Plan Specialist (CRPS®) from the College of Financial Planning and a Retirement Income Certified Professional (RICP®) from The American College of Financial Services. He holds Securities Licenses 6 (Investment Company Products/Variable Contracts Limited Representative), 63 (Uniform Securities Agent State Law Exam), and 65 (Uniform Investment Adviser Law Exam) with Kestra Financial, Inc. John is licensed for Life, Disability, Long-term Care, and Health Insurance in KY and IN.
A native of Louisville, KY, John stays very active in his community, primarily via his church and kid's schools.  He plays multiple sports and hasn't found a game he doesn't like.  You can always find him participating in Kentucky Derby Festival Marathon or Mini-Marathon and he has even completed iRONMAN® Louisville.  John enjoys learning new instruments as music has always played a role in his life from school band to handbell choir director to now praise team leader. He currently on the board of the Tom Sawyer Swim Team.
John loves his family and friends especially his wife, daughter, and son.